2017-18 TEAM NUMBER PURCHASE and REGISTRATION TRAINING AND TOURNAMENTS
Purchase Team Numbers for the 2017-18 Destination Imagination season, register for Team Manager or team trainings and workshops, and finally, register your team for their MN DI Regional Tournament.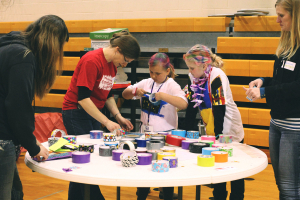 Start a Team – Price for Unique Team Number(s)
Team Challenge and Early Learning Rising Stars  

 

$105 purchased from DI, Inc.

Printed and digital access
Purchase your Team Number in one of these three ways:
Online:  DestinationImagination.org
Mail:  

Fill in the 

2017-18-start-a-team-form 

and Mail with payment to the address on the form. Use this method for purchases being paid by purchase orders.

Call Destination Imagination at

1.888.321.1503 / Mon-Fri 9:00 AM – 5:00 PM (Eastern Time).
Purchasers need to assign Team Numbers to Team Managers.
Team Managers should go to the DI website
Resources Area to access Challenges with your team number.
If you do not have an account click log-in anyway. There is an option on the log-in screen to create an account. You will need your Team Number and Order Number to sign in.
How to access the 2017-18 Challenges (one at a time):
Log into the Resource Area
Go to the "Teams Tab"
Click on "My Teams"
Click on "Modify" (the pencil)
Select a "Challenge" and  "Challenge Level," then hit "Save."
Click on "Modify" (the pencil) again
Then select a "Language" and click on "View Digital Challenge." Read the Challenge with your team.
You can repeat this process as many times as you would like to read all the Challenges.
When the team has decided on their Challenge, hit "Save" again.
To request a printed copy of the Challenge you would like to have shipped to you, select "Ship Challenge" instead of "View Challenge."
Click here to for more information on how to Start a Team.
Register for Team Manager or team workshops and trainings here.
Register for your Regional Tournament here.
If have any questions or difficulties with registration contact MN DI Affiliate Director Pamela Schroeder at pfschroeder@district287.org.
Enjoy your DI Team(s) and be amazed at what they can accomplish!!