DI is global! DI teams have the opportunity to participate in international tournaments. Participation in these tournaments provides teams a fantastic cultural education, as well as emphasizes the global aspect of our program and the world our DI'ers will be living and working in.
Bring your DI skills to Poland! Teams have been invited to join Poland's DI Affiliate tournament March 1-3, 2019. Details appear below!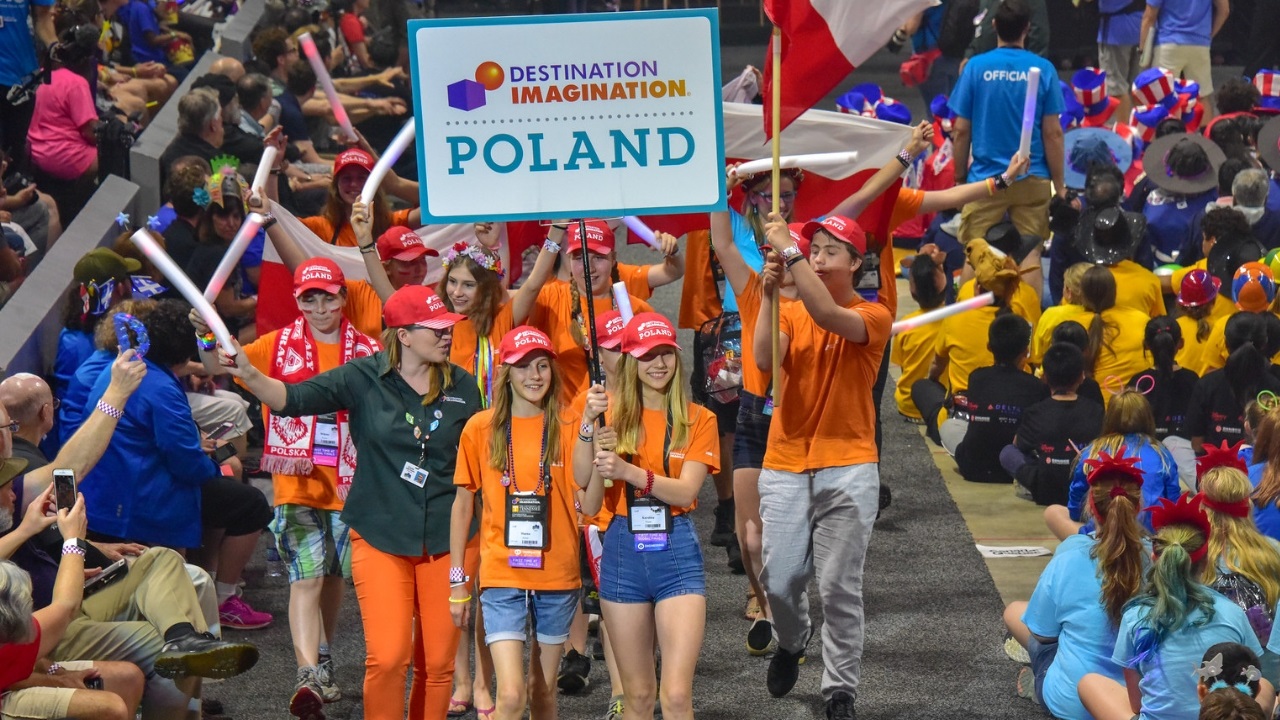 Ready to take your Destination Imagination (DI) skills abroad? DI Poland is opening up its 2019 Affiliate Tournament to all registered teams across the globe!
The DI Poland Affiliate Tournament will take place in Wroclaw from March 1-3, 2019. This is an opportunity for international teams to meet new people, showcase their creativity and immerse themselves in a new cultural experience.
International teams will have the opportunity to participate in a one-of-a-kind Buddy Team Challenge, as well as an Instant Challenge. International teams can also present their Team Challenge solutions as guests and will receive feedback points from Appraisers. However, feedback points will not qualify teams for Global Finals 2019 if their DI Affiliate has its own Affiliate Tournament.
In addition to the tournament, teams will have the opportunity to attend team parties and celebrations, see amazing Team Challenge solutions from Polish teams, trade pins and tour the beautiful city of Wroclaw.
For information on the event schedule, download the DI Poland event flyer.
The deadline to register for the event is January 7, 2019.
For questions about the event, please contact the DI Poland International Teams Coordinator, Malgorzata Keson, at malgorzata.keson@dipolska.pl.
ABOUT POLAND
Poland lies in the middle of the European continent. Europe's geometric center is near Warsaw.
Capital: Warsaw
Population: 38.5 million
The name "Poland" originates from the tribe "Polanie," which means "people living in open fields"
Poland is the ninth largest country in Europe
Poland's constitution was the first in Europe and second in the world
90% of Poles have completed at least secondary education
Poland is the world's biggest amber exporter
Polish astronomer, Micolaj Kopernick, was the first person to propose that the Earth was not the center of the universe
The most popular name for a dog in Poland is "Burek"
Wroclaw: Tournament City
The tournament will take place in Wroclaw, the capital of Lower Silesia. Wroclaw is the European Capital of Culture 2016 and is the most desired meeting place for people of culture, science and business as well as students and tourists.
The fourth largest city in Poland
12 islands connected with 117 bridges
Population: 635,000